@DelMonteFresh – 60 Maestros pueden ganar $1000 participa "Teacher Monday"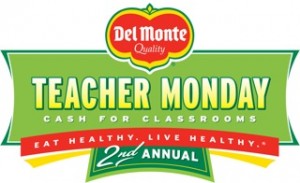 Del Monte y su compromiso a comer saludable con frutas y vegetales ha lanzado un promoción llamado "Teacher Monday" – Dinero para los salones de clases.
El objetivo de este programa es incentivar a que los niños coman saludable. Del Monte apoya a los profesores a que incentivos a los niños en el salón de clases a incorporar hábitos saludables y a una mejor alimentación con frutas y verduras.
La votación empieza el 26 de Septiembre. Anímate e invita a las maestras y maestros a participar en este concurso, puedes imprimir esta página y entregársela a la maestra o maestro.
Para los profesores:
Regístrate Aquí para poder ganar $1,000 en efectivo para útiles escolares para tu clase.
Ingresa un texto donde explicas como incorporarías mensajes de comer saludable y sano a tus alumnos.
Agrega una foto
Listo y luego comparte con los padres de familia para que puedan votar, la votación empieza este lunes 26 de Septiembre.
Sorteo
Cinco certificados de valor de $5.00 para comprar frutas y vegetales Del Monte. Total $25 cada uno. 
¿Cómo participar?
Entradas Mandatoria
Dale clic "I like" Del Monte Fresh Produce en facebook  y deja un comentario en el muro sobre el concurso "Teacher Monday" (1 entrada)
Entradas Opcionales (puedes hacer cualquier de estas entradas o todas)
Invita a una maestra o maestro a registrarse al concurso donde podrá ganar $1000 para el colegio. Los maestros pueden regístrate Aqui (indica el nombre del maestro o maestra que invitaste) (4 entradas)
Sigue a Del Monte en Twitter Clic Aquí (1 entrada)
Invita a un amigo o amiga a ser parte de Superbaratisimo o Gratis en Facebook (3 entradas)
Comparte el sorteo con los botones abajo de Facebook (1 entrada por día)
Envía este tweet (1 entrada por cada tweet x día) copia y pega en twitter.com
#Sorteo @DelMonteFresh TeacherMonday- 3 Ganadores $25 x @superbaratisimo http://bit.ly/q3jx35 #lasblogueras #latinabloggers #mamatuiteras
Duración
El Sorteo empieza hoy Martes 20 de Septiembre y termina Sábado 8 de Octubre a las 11:59 pm (PDT). Solo válido para los residentes de Estados Unidos. Mayores de 18 años.
Disclosure: I receive 20 certificate value of $5. I'm giveaway 15 certificate a total value of $75.
Comentarios de Facebook:
Powered by Facebook Comments