Sorteo – La película CARS 2 en los cines este 24 de Junio
La película animada de Car 2 estará en cine este viernes 24 de Junio excelente oportunidad para ir al cine con tus hijos y disfrutar de la película.
En esta película de Car 2 – La súper estrella de Cars 2 Lightning McQueen (con la voz de Owen Wilson) y Tow truck Mate (con la voz de Larry the Cable Guy) se enrumba fuera del país para competir en su primera carrera de World Grand Prix para determinar quién es el carro más veloz del mundo.
Te invito a ver una parte de la película en el video abajo.

Disney está ofreciendo este paquete a una lectora de Súper Baratísimo o Gratis abajo el detalle del paquete: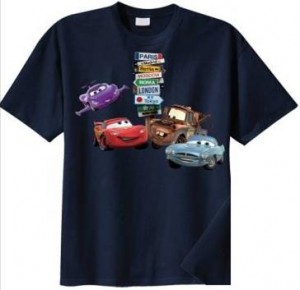 CARS 2 – camiseta S, M, L, XL.

CARS 2 – set de 3 bumper tickets

CARS 2 – una hoja de tattoos temporales.

CARS 2 – rompecabezas
Disney también ha creado un paquete de actividades para tu hijos completamente gratis que incluye: Actividades de Mazes, Soap Box Dragster, diseños de T-shirt , a Radiator Springs Play Set.
Las actividades para toda tu familia las puedes encontrar en este link: http://media-file.net/11/cars2/family/.
Para más información sobre la nueva película de Cars 2 haz clic AQUí

Cómo participar? Tienes 3 formas de participar:
Dale clic "I like"

Cars 2 en Facebook clic <<Aquí>>

Envía este

tweet diario

(1 entrada por cada tweet) copia y pega en

twitter.com
"Participa x Sorteo #Cars2 en los cine 24 de Junio http://goo.gl/fb/lTuId en @superbaratisimo gracias @disneypixar #lasblogueras #lascuponeras"
Sorteo
El Sorteo empieza hoy Lunes 20 of Junio y termina el Lunes 4 de Julio a las 11:59 pm (PDT). Solo válido para los residentes de Estados Unidos.
Súper Baratísimo o Gratis
, seleccionara a una ganadora usando Random.org y les dejaré saber por email. Si no me responden en 48 horas, otra ganadora será seleccionada.
Términos y condiciones:
Súper Baratísimo o Gratis no recibio ninguna compensacion por este post.
Comentarios de Facebook:
Powered by Facebook Comments