@Kroger: Revisión y #sorteo @Comfortsforbaby productos para tu bebé a un buen precio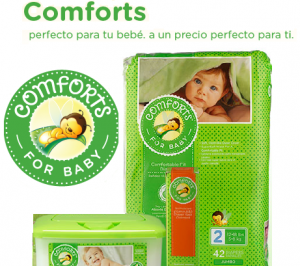 Los supermercados Kroger ha lanzado la línea de productos para bebés llamada Comforts for Baby. La nueva línea presenta productos como pañales, toallitas húmedas, formula y otros productos para tus bebé de 0 a 18 meses.
También lazaron la página web Comforts for Baby para ayudarte a encontrar los productos e información que necesitas para ayudarte a cuidar a tus pequeños de la mejor forma posible.
Podrás encontrar promociones, cupones y la sección de comunidad Comforts con muchos consejos de cómo cuidar a tu bebe, los alimentos a la hora del baño etc.
Los productos ya están disponibles en los supermercados Kroger, FredMeyer, QFC y otras tiendas. Haz clic Aquí para imprimir cupones
Sorteo
Kroger
quiere ofrecer a una afortunada lectora de
Súper Baratísimo o Gratis
una canasta con los nuevos productos Conformt for Baby que contiene: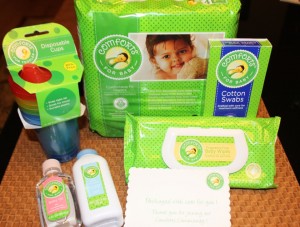 Un bolso negro para llevar las cosas del bebe.
Un paquete de pañales Jumbo talla 4 .
Una caja de hisopos.
Un paquete de toallitas húmedas
Un talco.
Un aceite.
Varios vasos de diferentes colores.
¿Cómo participar?
Entradas Mandatoria
Entradas Opcionales (puedes hacer cualquier de estas entradas o todas)
Invita a un amigo o amiga a ser parte de Superbaratisimo o Gratis en Facebook (3 entradas)
Deja un comentario en mi último video en youtube clic Aquí (1 entrada)
Comparte el sorteo con los botones abajo de Facebook (1 entrada por día)
Envía este tweet (1 entrada por cada tweet x día) copia y pega en twitter.com
#Sorteo @Comfortsforbaby – 1 Ganador x @superbaratisimo http://bit.ly/qnrEBv #lasblogueras #latinabloggers #mamatuiteras #latism
Duración
El Sorteo empieza hoy Viernes 30 de Septiembre y termina Sábado 15 de Octubre a las 11:59 pm (PDT). Solo válido para los residentes de Estados Unidos. Mayores de 18 años.
Disclosure: I receive one box of Comforts for Baby with the same products. I did not receive any compensation and my opinions are my own.
Comentarios de Facebook:
Powered by Facebook Comments